28 Jul

Posted By
0 Comment(s)
190 View(s)
Fashion – it's more than just a word; it's a statement, a lifestyle, and an intrinsic part of California's vibrant culture. Ever since the inception of the film industry, California, and more specifically Los Angeles, has been a crucial hub for fashion, witnessing the birth of numerous clothing manufacturing companies that cater to different market segments.

Within this extensive, diverse landscape, a niche that has particularly prospered is girls' clothing. Offering a myriad of colors, designs, and styles, this segment has evolved with time to accommodate the changing trends and preferences of its young customers.

As parents increasingly prioritize quality and design, girl clothing manufacturers in California have risen to the challenge, offering a captivating array of products that appeal to both the youngsters and their parents. This article takes you on an exciting journey through the state's top six girl clothing manufacturers, diving deep into their histories, standout products, and the unique niches they fill in this dynamic industry.

From FashionGo's eclectic range to Curly Birds' handmade charm, these companies not only embody the spirit of California's fashion industry but also set trends on the global stage. They have established themselves as leading manufacturers by maintaining high standards of quality, continually innovating their offerings, and prioritizing customer satisfaction. Each has a unique story to tell – of creativity, persistence, and unwavering dedication to their craft.

Stay with us as we uncover the fascinating world of girl clothing manufacturers in California, delving into the specific attributes that make each company a shining star in the industry.
Top 6 girl clothing manufacturing companies in California

1. FashionGo

Company Overview

Born in the heart of Los Angeles, California, FashionGo entered the fashion scene in 2002 as a wholesale online marketplace. Today, it is revered as one of the leading girl clothing manufacturers, serving not only the US market but also reaching out to international customers.

Unique Selling Points

FashionGo shines in its diverse, fashion-forward offerings. The company specializes in contemporary girls' clothing that aligns with the latest trends. From stylish dresses to cozy loungewear, their portfolio encompasses a wide range of products to cater to varied tastes and needs.

Furthermore, FashionGo stands out for its customer-oriented approach. The company not only offers high-quality, fashionable clothing but also prioritizes convenience for its buyers. By maintaining an easy-to-navigate online platform, they ensure a seamless shopping experience for retailers worldwide.

Industry Presence and Reputation

Over the years, FashionGo has earned a reputable standing in the fashion industry. By consistently delivering quality and trendsetting styles, it has garnered the trust and loyalty of its customers. The company's dedication to service and the continued innovation of their product line testify to their commitment to staying at the forefront of the girls' clothing market.

Their reach goes beyond California, extending to retailers worldwide, further solidifying their presence in the global fashion industry. Their success story is a testament to their strategic business approach and their unwavering dedication to fashion.

2. San Lorenzo

Company Overview

Founded in the beach town of Santa Cruz, California, San Lorenzo Bikinis has made a name for itself by marrying style with comfort. It's a company that has quickly transformed from a small local boutique into a globally-recognized girls' swimwear brand.

Unique Selling Points

San Lorenzo has positioned itself uniquely in the market by offering high-end swimwear that combines California's beach culture with the vibrant spirit of Hawaiian beaches. They offer a vast array of girls' swimwear, including bikinis, one-pieces, and tankinis, all designed with contemporary patterns, colors, and cuts.

But what truly sets San Lorenzo apart is their commitment to sustainability. The company's eco-friendly approach is manifested in their use of recycled fabrics and ethical manufacturing practices, a feature that resonates with the growing consciousness towards sustainable fashion.

Industry Presence and Reputation

San Lorenzo's reputation in the industry is one of quality, style, and eco-consciousness. Their commitment to sustainable practices has won them praise from both customers and industry insiders, setting a new standard for environmentally-friendly swimwear production.

Beyond their green initiative, San Lorenzo is appreciated for their stylish and comfortable designs that cater to girls' varied swimwear needs. They've solidified their presence in the international market by selling their products online and in brick-and-mortar stores across the world.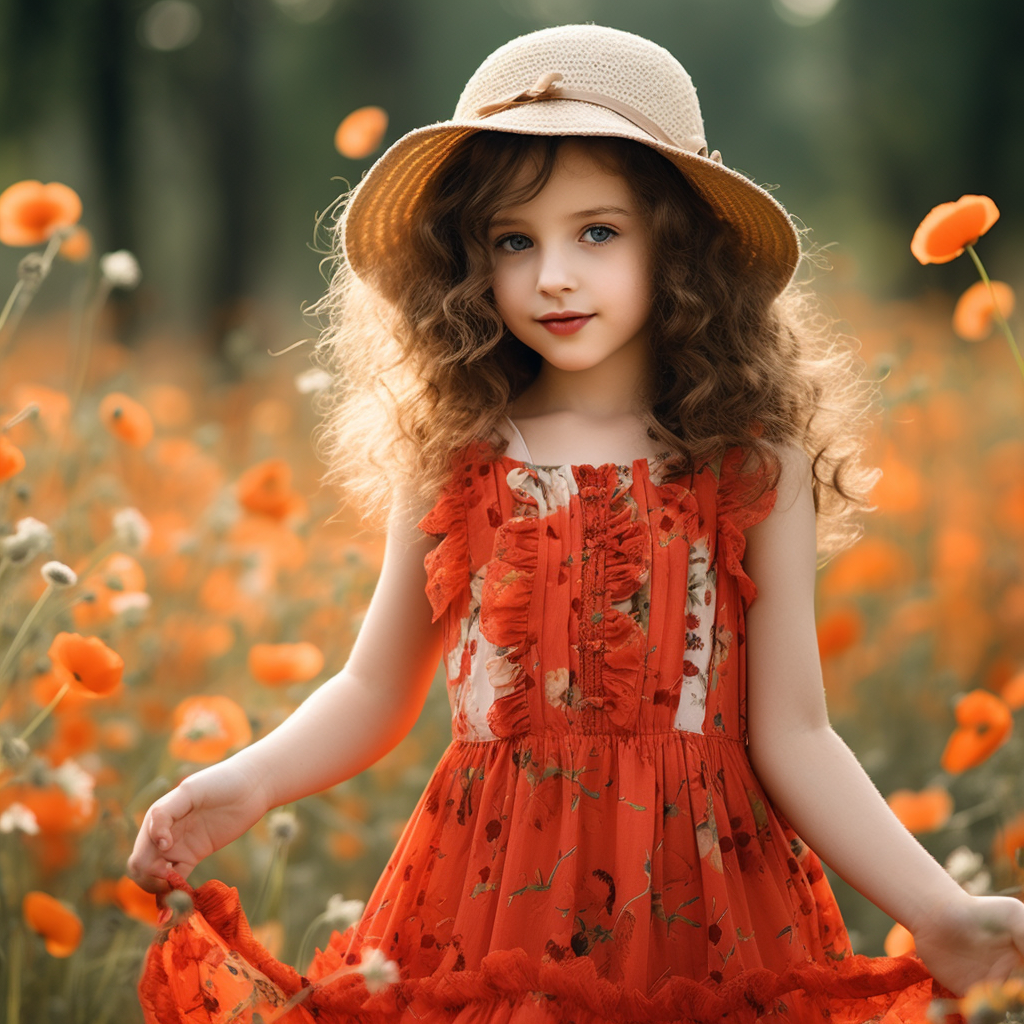 3. Wild & Gorgeous

Company Overview

Wild & Gorgeous, a whimsical children's clothing brand, was founded in 2008 in the heart of California. The company's signature style of mixing fun and eclectic prints with classic silhouettes has earned them a unique spot in the industry.

Unique Selling Points

Wild & Gorgeous celebrates the joy of childhood through its vibrant clothing line. Their collections are inspired by global cultures, vintage fabrics, and the creative world of children themselves, resulting in a range that is playful yet sophisticated.

What makes Wild & Gorgeous unique is their blend of distinctive prints with fine detailing. Each piece is designed with meticulous attention to detail, ensuring every seam, button, and ribbon enhances the overall aesthetic. This commitment to quality and creativity sets them apart from their competitors.

Industry Presence and Reputation

In the span of just over a decade, Wild & Gorgeous has made a significant impact on the children's fashion industry. Their products are loved worldwide, and their distinctive approach to design has earned them numerous industry accolades.

Wild & Gorgeous has maintained a strong industry presence, establishing retail stores across the United States and selling online to customers globally. Their reputation for high-quality, imaginative clothing continues to make them a favorite among parents and kids alike.

4. Ultra Violet Kids

Company Overview

Founded in 2014 by fashion industry veteran Michelle Chaplin, Ultra Violet Kids has quickly become a sought-after brand in the realm of girls' clothing. Based in Los Angeles, the brand produces modern, fashion-forward clothing for children.

Unique Selling Points

Ultra Violet Kids stands out for its minimalist design philosophy. The brand's style is defined by clean lines, bold colors, and easy-to-wear fabrics, creating a unique aesthetic that is both comfortable and stylish.

Moreover, much like San Lorenzo, Ultra Violet Kids is deeply committed to sustainability. Their clothing is made from organic and recycled materials, and the company employs ethical manufacturing practices. These factors not only enhance the brand's appeal but also align it with the growing trend of sustainable fashion.

Industry Presence and Reputation

Despite being relatively new in the industry, Ultra Violet Kids has quickly established a strong presence both in California and beyond. Their modern and sustainable designs have won over parents seeking stylish yet ethically-produced clothing for their children.

Furthermore, the brand's commitment to sustainability and ethical production has been widely recognized, earning them a reputable standing in the industry. Their products are available in select stores across the U.S. and can also be purchased online, facilitating their reach to a global audience.

5. Flower Girl

Company Overview

Founded in 2009, Flower Girl is a boutique manufacturer based in Los Angeles, California. As the name suggests, the brand specializes in creating exquisite flower girl dresses, ensuring every little lady feels like a princess on special occasions.

Unique Selling Points

What sets Flower Girl apart is its focus on creating enchanting dresses that encapsulate the innocence and beauty of childhood. Their collections feature a range of dresses made from luxurious fabrics such as silk and lace, adorned with beautiful embellishments.

Additionally, Flower Girl offers a bespoke service, allowing parents and little girls to be part of the creative process. This personalized approach enables the creation of unique, custom-made dresses that are perfect for weddings, parties, and other special events.

Industry Presence and Reputation

Flower Girl has built a strong reputation for their attention to detail, quality of materials, and exceptional customer service. They've become a go-to brand for parents seeking unique, high-quality dresses for their little girls.

Their presence extends beyond California, with their creations being shipped to customers across the U.S. and overseas. Flower Girl's continued commitment to creating breathtaking dresses underscores their unique position within the girls' clothing industry.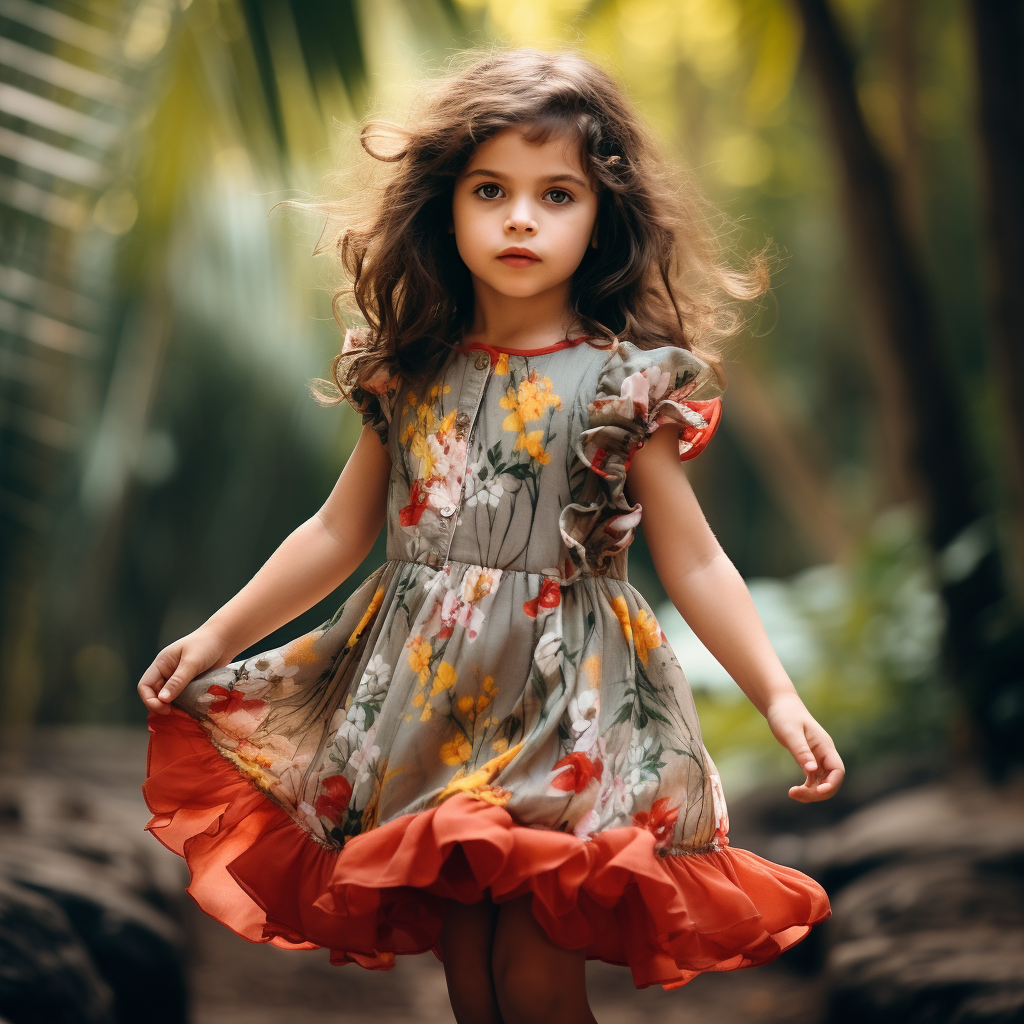 6. Curly Birds

Company Overview

Curly Birds, established in 2010, is a unique addition to California's clothing industry. The company is based in Santa Monica and specializes in creating handmade clothing and accessories for girls, adding a touch of nostalgic charm to their collections.

Unique Selling Points

What makes Curly Birds stand out is their commitment to craftmanship. Every piece is lovingly handmade, resulting in clothing and accessories with a unique, personal touch that is hard to find in mass-produced items. Their products are characterized by their timeless style, intricate details, and high-quality fabrics.

Additionally, Curly Birds' products are not just limited to clothing. The brand also offers a range of handmade accessories and toys, making it a one-stop-shop for unique, artisanal items for girls.

Industry Presence and Reputation

Curly Birds has carved out a unique niche in the industry, appealing to those seeking handmade, high-quality products for their children. The brand's commitment to craftmanship and quality has earned them a dedicated customer base and a reputable standing in the industry.

The brand's products are primarily sold online, which has enabled them to reach a global audience. Their unique approach to children's clothing and accessories sets them apart from other manufacturers, reinforcing their position as a leading player in the girls' clothing industry in California.

Conclusion

California's diverse and vibrant fashion scene is mirrored in its array of girl's clothing manufacturers. Each company offers something unique, reflecting the state's innovative spirit. Let's recap the six top companies we've discussed:

The Children's Place: A reliable industry veteran with a broad range of products, it has served multiple generations of children with its quality clothing.

FashionGo: The company has set new trends with its wide variety of fashionable clothing for girls, offering an easy-to-navigate online platform for global retailers.

San Lorenzo: This company stands out with its stylish swimwear that beautifully blends Californian and Hawaiian beach culture, all while committing to sustainability.

Wild & Gorgeous: By blending distinctive prints with fine detailing, Wild & Gorgeous creates imaginative clothing that embraces the joy of childhood.

Ultra Violet Kids: This modern, minimalist brand has become popular for its sustainable and stylish clothing that's both comfortable and ethical.

Flower Girl: Specializing in making little girls feel like princesses, the company crafts enchanting dresses perfect for special occasions.

Curly Birds: This unique brand's handmade clothing and accessories provide a personal, nostalgic touch that's truly charming.

These brands, each with their distinct selling points and contributions, have made significant strides in the girl's clothing industry. Their continual growth and success not only boost California's economy but also enrich the global fashion industry with their innovative designs, commitment to quality, and distinctive styles.

Remember, choosing clothing for children isn't just about aesthetics. It's also about comfort, durability, and sometimes, sustainability. Whether it's the ethically-produced swimwear of San Lorenzo or the imaginative designs of Wild & Gorgeous, each of these companies offers something special. Keep them in mind the next time you're shopping for girls' clothing – you might find exactly what you're looking for.

This wraps up our in-depth look at the top girl clothing manufacturers in California. Thank you for joining this fashion journey – until the next one!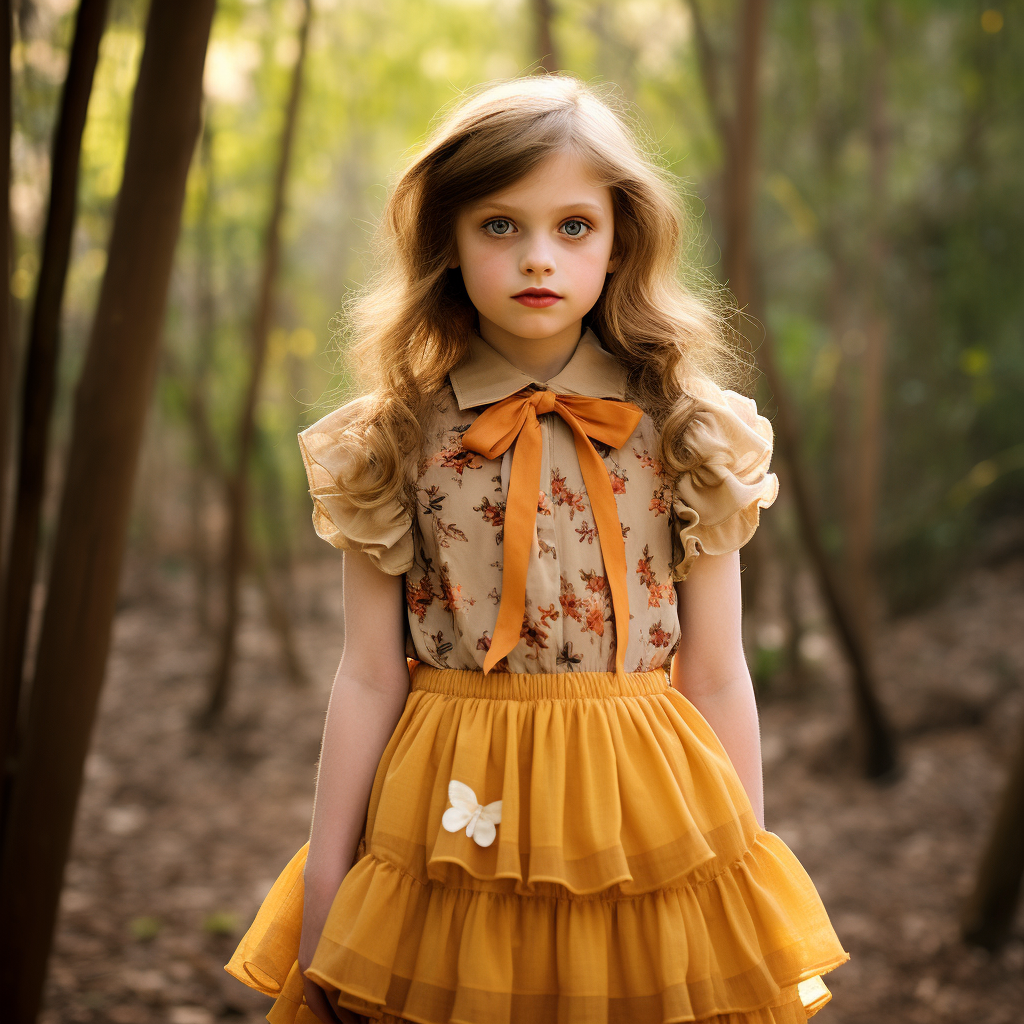 Frequently Asked Questions

Q1: Do these companies ship internationally?
A1: Yes, most of these companies have an online presence and offer international shipping. However, the shipping terms may vary, so it's best to check their respective websites for details.

Q2: Are these brands available in retail stores?
A2: While some brands like The Children's Place and San Lorenzo have physical stores, others mainly operate online. Visit their websites for the most accurate information on where to buy their products.

Q3: Do these companies offer boys' clothing too?
A3: While the focus of this article is girls' clothing, some companies like The Children's Place, Wild & Gorgeous, and Ultra Violet Kids also offer boys' clothing.

Q4: Are there options for custom or personalized clothing?
A4: Yes, Flower Girl, for example, offers a bespoke service for custom-made dresses. Please visit the specific brand's website for more details on custom options.

Q5: How do these companies ensure sustainability?
A5: Companies like San Lorenzo and Ultra Violet Kids use sustainable practices like using recycled or organic materials and adhering to ethical manufacturing processes.

Q6: Are these clothes machine washable?
A6: Most clothing items from these brands are machine washable, but it's recommended to check the care label on each garment for specific washing instructions.